Jazzlegende Herbie Hancock

Dieser Auftritt ist eine kleine Sensation für Bielefeld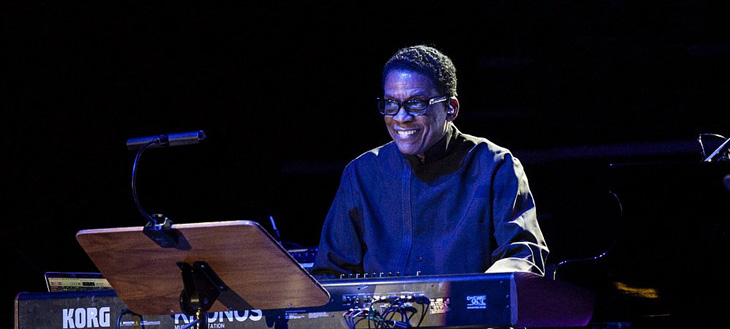 Alterslos: Herbie Hancock bewies bei seinem Auftritt in Bielefeld, dass ein innovatives Musikkonzept keine Frage des Alters ist.
Foto: Joerg Dieckmann | © Joerg Dieckmann
Oetkerhalle:
Der 79-jährige Jazz-Altmeister beeindruckte mit ungebrochener Vitalität
Begleitet wurde er von hochkarätigen Musikern
08.11.2019 | Stand 08.11.2019, 07:02 Uhr by Heike Krüger
Bielefeld. Er ist ohne Frage der Elektrotechniker unter den Jazz-Ikonen. Dieses Fach hatte Herbie Hancock immerhin studiert, bevor er sich vollends der Musik verschrieb. Sein musikalisches Konzept dominiert die Begeisterung eines vitalen, inzwischen 79-Jährigen für experimentelle Elektrosounds und innovative Genremischungen bis heute. Davon konnten sich am Mittwochabend Hunderte Jazzfans in der ausverkauften Oetkerhalle überzeugen.
Es war schon eine kleine Sensation, dass es dem Musikkontor Herford gelungen ist, den einstigen Weggefährten von Miles Davis für Bielefeld zu verpflichten. Lesen sich seine Tourdaten doch ungefähr so: Bielefeld – Düsseldorf – Frankfurt – Wien. Das Intro erstreckte sich über ein beinahe halbstündiges Schwelgen in expressiven Sphärenklängen, raschen Tempiwechseln, Electrosound, Funk und eingestreuten Ausflügen in die klassische Jazzmusik. Bei diesen ausladenden Klangkolossen ohne eine einzige Pause sollte es den Abend über bleiben.
Der bekennende Buddhist bot allen Musikern ein Forum
Der Meister selbst sprang vom Konzertflügel zum Synthesizer und wieder zurück, Querflötistin Elena Ayodele Pinderhughes ("She's astounding") übernahm mit dem klaren Klang ihres Instruments zwischendurch die Regie, um sie nach und nach an jedes weitere Bandmitglied abzugeben. Mit James Genus am Bass, Gitarrist und Sänger Lionel Loueke und Justin Tyson an den Drums hatte Hancock eine langjährige, bestens aufeinander eingespielte Besetzung am Start. Lauter herausragende Musiker, denen der bekennende Buddhist durchaus berechtigt immer wieder ein Forum bot. Genus' Basslinien schnauften ab und zu wie eine alte Diesellok, Gitarrist Loueke traktierte Saiten und Griffbrett und produzierte elektronisch verfremdete Töne, bevor er seinen Scatgesang zu Gehör brachte.
Junge Bandmitglieder als Türöffner für aktuelle Musikströmungen
Drummer Tyson wirbelte an Trommeln und Becken und sorgte im Verbund mit allen anderen für jeweils halbstündige Dauerbeschallung.
Die junge Flötistin machte zudem als Sängerin mit markanter Grundierung eine gute Figur. Das souveräne Abgeben der Leadfunktion hat bei vielen Altvorderen des Jazz Methode und ist sicherlich als Nachwuchsförderung zu verstehen. Gleichzeitig öffnet sie Altmeister Herbie Hancock Türen zu den aktuellen musikalischen Strömungen. "Vielen Dank, Bielefeld", formulierte Herbie Hancock immer wieder artig und womöglich dank einiger Übungseinheiten mit seiner deutschstämmigen Ehefrau Gigi praktisch akzentfrei. "A beautiful City" wurde von den Heimatverbundenen im Publikum mit Jubel beantwortet.
Die Rudolf-Oetker-Halle wurde zur Versuchsküche
Regelrecht in Rage spielte sich die Band bei "Actual Proof" aus Hancocks innovativem Album "Head Hunters" von 1973. Perlende Klavierläufe und lange Improvisationsphasen mündeten in Fragmente aus Bigband-Sound. Dann wieder übernahmen die einzelnen Bandmitglieder das Ruder. Hancock schaltete sich mit elektronisch verfremdeter Gesangsstimme ein, experimentierte mit sich überlagernden Klängen. Trotz des emsigen Treibens auf der Bühne ergaben sich Momente groovenden Schwelgens, die auch die Zuhörer erfassen.
Es machte einfach Spaß, den Musikern beim Ausüben ihres Handwerks zuzuschauen. Die Oetkerhalle wurde zur Versuchsküche, die Musiker traten in Dialog miteinander und mit ihrem Publikum. Wenn es zu experimentell, zu schräg vielleicht zu werden drohte, griff der Meister mittels melodischer Töne in die Jazzkiste. Dennoch war dieser Abend durchaus fordernd – für Musiker wie fürs Publikum.
Nach gut zwei Stunden Nonstop-Konzert war der Zauber vorbei. Noch eine Endlos-Jam-Session mit "Chamäleon" und die sich restlos verausgabenden Virtuosen räumten die Bühne unter tosendem Applaus und angesichts stehender Ovationen.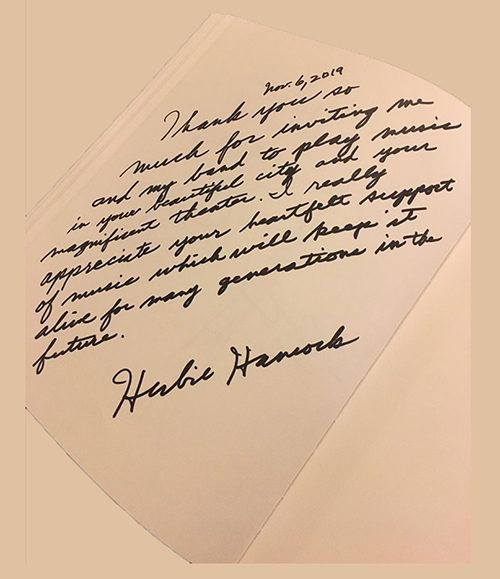 Herbie Hancock signed Musik Kontor's guestbook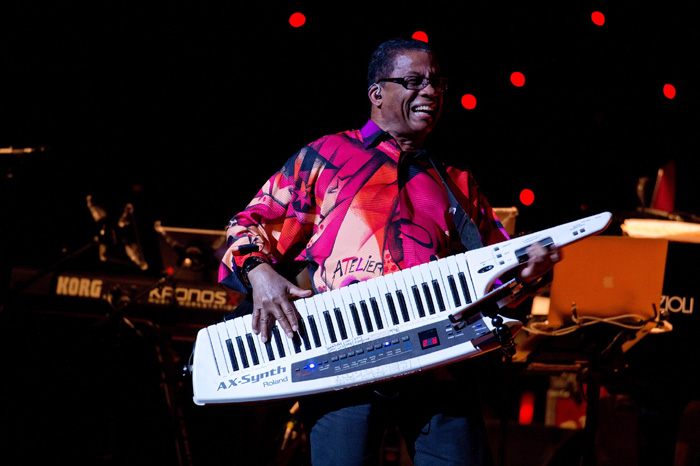 Many Thanks to Dave Willey for the following arrangement
of Herbie Hancock's Biography
Herbie Hancock – Born Herbert Jeffrey Herbie Hancock – On April 12, 1940 – Age 79.
He's An American Pianist, Keyboardist, Bandleader, Composer and Actor. He Started His Music Career With Donald Byrd Followed Soon There After When He Joined The Miles Davis Quintet, Where He Helped To Redefine The Role of Jazz Rhythm Section and Was One of The Primary Architects of The Post – Bop – Sound. He Was Born In Chicago, Illinois.
Modal and Fusion Jazz – "Head-Hunters – 1973" Was A Real Take-Off –Point For Herbie.
Maiden Voyage – 1966
Head Hunters – 1973
Thrust – 1974
Man – Child – 1975
Future Shock – 1983
In The Same Class:
Miles Davis – Miles Dewey Davis III – Jazz Trumpeter, Bandleader, Composer, Flougelhorn and Electric Organ. Born On May 26, 1926 – Alton Illinois - Died On September 28, 1991 - Santa Monica, California… Age 65.
Wayne Shorter – Born August 25, 1933 – Age 86.
Tenor Saxophone – Soprano Saxophone.
Ron Carter – Born May 4, 1937 – Age 82 – Ferndale, Michigan.
Chick Corea – Born June 12, 1941 – Age 78 – From Chelsea, Massachusetts – Birth Name Was Armando Anthony "Chick" Corea.
John William Coltrane – Born On September 23, 1926 – Died On July 17, 1967 – Age 40, of Liver Cancer – Hepatitis From Heroin Use. Huntington, New York – Hard Bop, Modal Jazz, Free Form Jazz – Avant-Garde Jazz.
Tenor Saxophone / Soprano Saxophone / Alto Saxophone and Flute.
Al Laurence Di Meola – American Jazz Guitarist – Born July 22, 1954 – Age 65 – From Jersey City, New Jersey – "Return To Forever."
Keith Jarrett – American Jazz and Classical Pianist and Composer – He Started With Art Blakey – Then Charles Lloyd and Then To Miles Davis. Born On May 8, 1945 – Age 74. Allentown, Pennsylvania.
Stanley Clarke – American Bassist, Film Composer and The Founding Member of "Return To Forever." Born On June 30, 1951 – Age 68. Double Bass and Bass Guitar. From Philadelphia, Pennsylvania.
Back To Herbie Hancock Bio:
He Is A True Icon of Modern Music – He Was A Child Prodigy Who Performed Mozart's
D -Major Piano Concerto With The Chicago Symphony Orchestra At Age 11. He Began Playing Jazz In High School, Initially Influenced By Oscar Peterson and Bill Evans.
The Best Jazz Pianist To Come Along Since – Thelonious Monk. Herbie Is An Oscar and Grammy Award Winning Musician. He Admired Kendrick Lamar. He Talks About Buddhism and His New Album.
What's The Best Herbie Hancock Album?
Head-Hunters – 1973
Empyrean Isles – 1964
Maiden Voyage – 1965
Inventions and Dimensions – 1963
Nwandishi – 1972
Speak Like A Child – 1968
Thrust – 1974
MR…..
Note: Now In His New Memoir – "Herbie Hancock" Talks About His Personal Struggle With Addiction, His 42 Year Marriage To Gigi, and His Discovery of Buddhism. Crack Addict.
Everyone Says That Herbie Is One of The Nicest Men In Jazz – and Yet Miles Davis Sacked Him While On His Honeymoon. This Is From Sunday October 29, 2006. Too Good To Be True. Herbie Remains As Busy, and As Current, As Ever.
Seven Steps To Heaven – 1963
Maiden Voyage – 1965
Head – Hunters – 1973
Round Midnight – 1987
Gershwin's World – 1998
Herbie Hancock Played In Bielefeld, Germany On Wednesday November 6, 2019 At 8:00 PM
At The Rudolf – Oetker – Halle. Tickets - $43.74
Watermelon Man
Rockit
Cantaloupe Island
Herbie Hancock Band In 2019 – AX – SYNTH - ROLAND
Herbie Opened The Wednesday Night Concert With The Most Anticipated Act. With Tickets Having Been Sold Out Long Before He Ever Hit The Stage. The Three Other Band Members Were – Drummer Vinnie Colaiuta, Bassist James Genus, and Guitarist / Vocalist Lionel Loueke. As Herbie Was Seated To The Far Left, Swivelling On His Stool In Order To Move Between His Grand Piano and His Keyboard Synthesizer. The Atmosphere Was Electric.
The Band Was of The Highest Calibre, As Was To Be Expected. They Played Beautifully Off One Another, and The Individual Drum, Bass and Guitar Solos Were of Course Technically Brilliant. Herbie Came To The Microphone, and Mentioned How Honoured He Was To Play With Musicians of This Level, And You Could Tell, That They Felt The Same Towards Him.
Thirty Years His Junior, Guitarist Loueke, Most Likely Grew Up Learning To Play Hancock Standards Like Cantaloupe Island and Watermelon Man.
Short Bio. Hancock was born in Chicago, Illinois, the son of Winnie Belle (Griffin) a secretary, and Wayman Edward Hancock, who was a government meat inspector. His parents named him after the singer and actor Herb Jeffries. He attended the Hyde Park Academy, and like many jazz pianist, Herbie started out with a classical music education.
His Big Hit Was "Rockit" and peaked at number 1 in 1983.
Thank You Dave :)